This was a big day for the ZoCal folks. It was our first show as an official exhibiting group, and it was a huge success! Due to an intense work schedule, I was unable to commit to the entire two-day show and set-up. I had to settle for about 5 hours on the Saturday afternoon. My wife, Hiromi, decided to come with me and I managed to enlist her as official photographer (she has both the camera gear and the skill to take some good shots).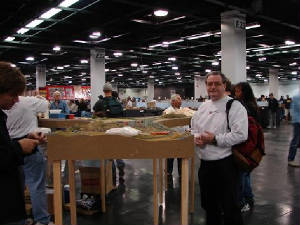 Prior to the show at the Anaheim Convention Center, several ZoCal members had met at another train show in San Diego in December. They were obviously inspired by the Z scale modular layout of a group who came down from San Francisco. In the space of three weeks, over the Christmas holiday, Lajos, a driving force in ZoCal, built a set of module frames. Several members worked on the modules feverishly to prepare them for Anaheim. Lo and behold, come January 6th, ZoCal actually had something to exhibit.
Hiromi and I arrived around 11:00am and soon found the display right in the middle of the hall. Bill, my first contact with the group a couple of years ago, was at his usual station, overseeing all the activities and talking with anyone who showed the slightest interest. Bill is a great spokesman. He is so enthusiastic that he can talk just about anyone into submission. I almost felt sorry for those unwary modelers in other scales who took him on. He soon shot down their arguments about Z being too small and fiddling to work on, all with a joke and a smile.
There were a half dozen or so other group members there that day, including Raymond, a young guy I had spoken with at the Costa Mesa show in March of last year. Since then, he has become an avid Z scaler and ZoCal member. A couple of folks watched over several small layouts and displays, answering questions and handing out information and flyers. Meanwhile, everyone else was hard at work on the modules.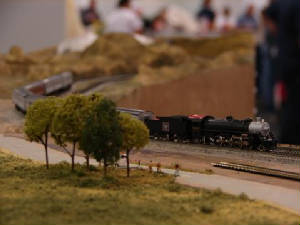 A huge amount of progress had been made since they were no more than a glint in Lajos' eye, just three weeks earlier. Now they were a large unit, bolted together with track laid and basic wiring complete. They just needed the pieces of adjustable track to connect them all into a working layout. Unfortunately, someone had mislaid these crucial pieces. Not to worry! The craftsmen in the group jumped in and began hand-fitting track sections to finish the two large loops. It ended up taking most of Saturday, but we did get to see a test run on one of the loops before the end of the day (I hear that both loops were operational the following day).
I had brought along some rock castings to donate to the cause, and had a chance to see the track laying experts in action, while others were busy ballasting. It was a hive of activity. All day we had a constant stream of visitors interested in our impromptu 'workshop' on modular building. I think this layout, with its six scale miles of track, made people realize that Z could be taken seriously, and at just how much you could pack into a small space. With our group members now ranging in age from around 20 to mid-70's, there were fewer and fewer comments about Z being only good for middle-aged men with fat wallets.
Hiromi and I were drafted onto the 'skirt' team – fitting black cloths around the modules, hiding the legs and making the layout look a little more professional. Originally we had planned to stay for just two or three hours, but as it turned out, we stuck around until the show closed for the day at 4:00pm. We did manage to take a brief look around the rest of the show, and I ran into Robert from the Antelope Valley N Scalers group, who I first met at the local Arcadia show back in November.
It will be interesting to see the modules again at the next show in a few months, and see how they have progressed.