My wife and I arrived at the venue - a large section of the Metro parking lot in downtown Fullerton - nice and early. This was not a typical model railroad show. Its scope was broader: highlighting a variety of Fullerton businesses and civic organizations, as well as promoting a variety of public transport.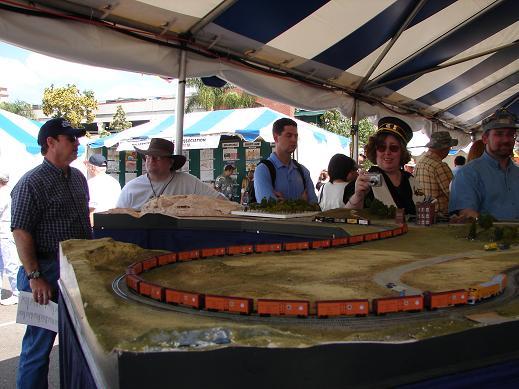 Anyway, after a fine pancake breakfast, courtesy of the local scout troop, we went in search of the ZoCal exhibit. A number of the guys from the group had done a fantastic set-up job the previous afternoon, so there was little to prepare before the gates officially opened. The ZoCal display consisted of several modules in various states of completion, in a Y configuration. We did spend some time doing intensive track care on one module that had been recently ballasted. But by opening time, trains were running the continuous loop runs without stalling. We had several long consists running during the day – at one point about 26 cars. For the most part, things ran great, with only a couple of derailments. That is, until near the end of the day when a fierce gusty wind gave us a bit of trouble.
I had hoped we might have time to plant some of the Z trees my wife and I had made, but it wasn't to be. The crowds kept us all busy for the entire day. This was the first time many of the attendees had seen a set-up as small as Z. I think we generated as much interest as any of the other exhibits. All the scales were represented in some form or another. There was even a fairly impressive Lego layout.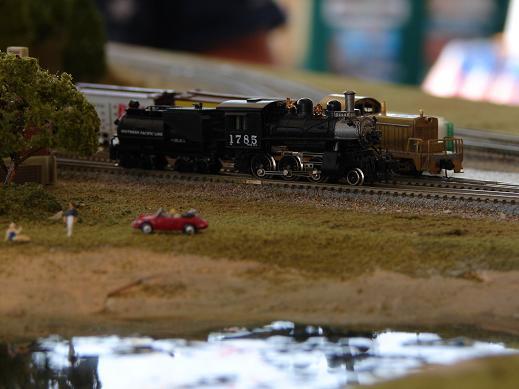 Thankfully, we had a great turnout from the ZoCal folks. Some spent the entire day talking with folks or keeping an eye on the layout, while others stopped by for an hour or two. Bill, our resident 'evangelist' sat at a nearby table with a couple of basic MTL Micro Track loops, showing folks just how easy set up can be.
All in all, it was a great day, and a good opportunity for ZoCal to inaugurate our modules in fully functioning condition. The next major challenge will be to see how they perform in connection with modules from other nearby clubs…